Well me and Chad set off to pre-ride Antelope peak challenge course.
http://rockyroad5050.wordpress.com/antelope-peak-challenge/
This ride is about 67 miles of very rustic trails with a few abandon ranchs along the way.
We started out at mile post 105 in the town of Oracle.The ride took us up tiger mine road for about 1.5 miles then we hit the AZ trail, this has to be some of the best unknown single track in the state.We followed this sweet single track for about six miles then we hit the gas line road for ten miles of rollercoaster climbs and decents.During the gasline road we came upon some cattle that needed herding and since I left sprocket at home I had to take matters in my own hands( NO CATTLE WERE HARMED).To see video
http://chadfbrown.blogspot.com/
After gasline road we took a wash called blood sucker, this is one of the fastest washes I have ever ridden. I guess who ever named it must have came from the other direction.We took this about seven miles then came upon the cholla forest.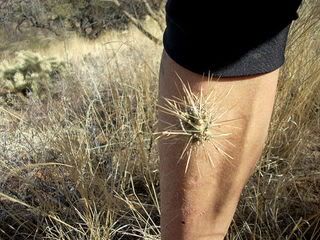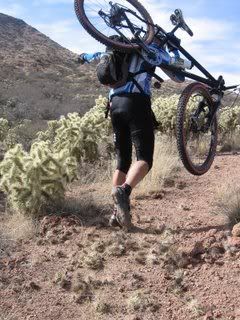 This is where we stoped to do a little trail clean up.Then it was on to Antelope peak once there we decided to hike to the top of the peak and sign in.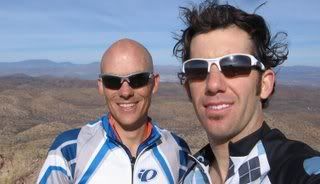 I rode the course a week earlier and missed a turn and never got to sign in so (REDEMPTION)Then it was back on our bikes for another few miles till we hit Freeman road with the wind at our backs. We cruised about ten miles to Willow springs road ,thats when things took a turn for the worst.The wind that had pushed us all day was now in our faces.Gusts of 15mph made for a tough ride back on willow springs.We should have turned on a trail called june bug but with heads down fighting the wind we passed it.It was no big deal I rode that section last week and its only two or three miles then it pops you out back on Willow springs rd.After four+ hours on the bike, I was getting hungry.It would be eight more miles to reach hwy 77 which took one hour because of the head wind.All I wanted was to get to hwy 77 thats when I was hit with what felt like 30 mph winds my average speed for the next nine miles was between walking and 5 mph.Ive been known to say I like to suffer so with that said I can say it was a great training ride!
total mileage: 67
year to date: 67